Committed to providing quality and compassionate care for your horses
---
Equine Ambulatory Care / In Clinic Services
For the routine appointments or emergency care, the CVH equine team has a fully equipped mobile unit to provide veterinary services in the field setting and in 2008, CVH re-opened their equine doors to haul in services to help reduce our client's trip and mileage fees. Personalized preventative care is provided for the single horse owner or for stables.
In addition, procedures such as dentistry, on-site reproductive ultrasonography and radiology are available.
Emergency care is available 24 hours a day and our equine veterinarians are also available for onsite equine events or organizations.
Emergency Medicine
We share emergency services with other local veterinary hospitals to provide emergency veterinary availability during off-business hours. You may call 503-852-7009 anytime to be connected with the veterinarian on call.
If you receive their voicemail, please leave a message as they may be with another emergency and they will return your call as soon as they are able.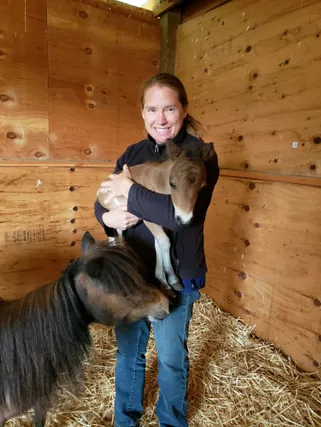 Breeding Services
Since 1979, Carlton Veterinary Hospital has been serving the needs of equine reproduction in Yamhill County.
Stallion and mare evaluations
Stallion collection with semen evaluation, packing for shipment, or preparation for insemination
Artificial Insemination - using fresh, cooled or frozen semen
Pre- / post-foaling exams / foaling assistance
Ultrasound exams
Fertility evaluation - using ultrasonography, uterine culture, and uterine biopsy, if needed
Medical care for high-risk pregnancies
Sports Medicine
Comprehensive evaluations for the equine athlete. Our equine veterinary team is dedicated to helping clients with complex and challenging lameness cases and patients with poor performance. Our services include:
Lameness evaluations
Corrective shoeing evaluations
Diagnostic nerve and joint blocks
Radiography
Ultrasound
Pre-Purchase Exams
We offer a variety of services to assist you with a horse purchase that meets your performance requirements and needs.
Physical and Flexion exams, digital radiographs, lab work, and written evaluations are all types of services that can be performed at your request.
This examination is a very thorough and complete procedure to assist the purchaser in making the most informed decision as possible.
Equine Dentistry
Carlton Veterinary Hospital offers complete dental care for your horse with the Powerfloat. The Powerfloat is both faster and more efficient than hand floating, allowing us to do a superior job of floating your horse's teeth.
The small, guarded head allows access to all areas of your horse's mouth without causing any damage to the soft tissues of the mouth and tongue.
Equine Ultrasonography
Ultrasound has allowed Carlton Veterinary Hospital to produce high-resolution images of the equine musculoskeletal system to accurately diagnose a multitude of conditions that may affect your horse.
Call 503-852-7009 for more information or an appointment.